I've nearly completed the bodice on my
sheer dress.
It's turning out really pretty. This is probably the first project I've entirely draped, instead of drafted.
I love drafting...
draping is quite a change of pace. I haven't decided yet if I like it... it kind of makes me nervous to throw a piece of fabric up on my dress form, add a couple pins, and start cutting away. It's been working alright so far -- I brought the back up a little too far, but it'll be easily fixable with a waist band.
Now, my dilemma... I am scared to death of trim. If you haven't noticed, all of my gowns are fairly simple. No lace... maybe a pintuck here or there... no ruffles. I'm frightened of trimming things wrong, so I just never trim at all. That leaves a very unfinished sort of look -- especially on this glamourous sheer gown! SO! I need your opinion!

This is the original: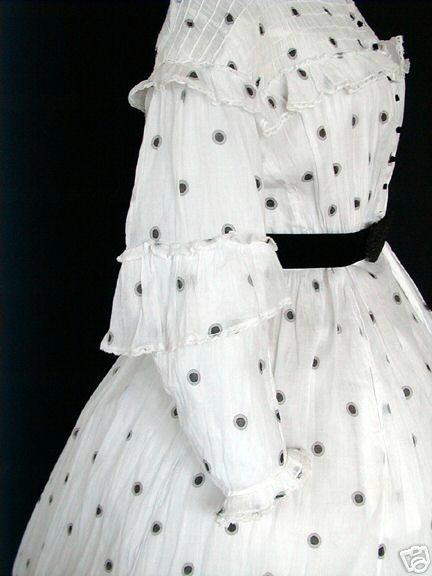 I think I've already decided the elbow flounces are too much for me. Too out of my comfort zone. But I definately want to do that band around the yoke -- there's a matching one at about mid-calf on the skirt, too, which I'd love to include. Here's where I need your opinion. Lace trim? Or self-fabric flounces?
The trim has the benefit of being finished and just needing stitched on -- a valid concernt 2 days before the event. And the blue ribbon running through it matches PERFECTLY. However, it's polyester, and more attention getting. A self-fabric flounce matches with the original better... and requires much more work. I couldn't find a tiny edging lace like the original uses when I was at the store yesterday, so I'd have to hem. But it may be worth it... I'm at a total loss and am going to put the bodice aside until I get some feedback! The agony of wanting to be right!
So, PLEASE! Which do you prefer? Fabric, or lace?!