I'm a classic, textbook perfectionist. There's no point doing something if you're not going to do it right... the first time. So, when we decided to take up Civil War reenacting, I briefly considered shortcuts to getting me dressed. But the more I thought, the more I realized: since I know what's right and how to do it, why not do it right from the very beginning?!
Tada! My very first corset and chemise, proudly displayed by the headless Ellinor. (I would have displayed it myself but 1. the chemise is REALLY short and 2. Hubby's not here to lace me in). There's still a few finishing touches to accomplish but overall I'm THRILLED! Everything's boned with cable ties cut to fit. The front is hook-and-eyes on the underside instead of a busk. To be honest, I think I like corsets. I wore it around the house for a while last night and didn't have to tug at it once. It fits me better than Ellinor because I squish in places that she doesn't :)

My petticoat is cut out and stitched together. I plan on gauging it to the waistband in the car this weekend -- we've got a 12 hour drive to Pittsburgh, PA, to attend my cousin's graduation. We're going with my parents and my 10 year old brother. I've already claimed the back seat of the minivan all to myself so I can spread out my sewing. Privledges of being the oldest kid :)

Now that I've laid a firm foundation (haha... sorry) I can start on the dress -- the best part! For inpiration, I'm looking at this dress here: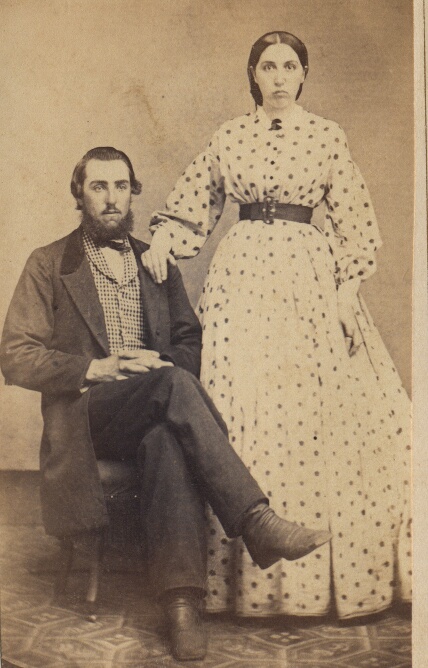 I love it! Gathered bodice, little collar, etc etc etc. It's elegant without being overwhelming. The only thing I don't like is the sleeves -- I've never worn big sleeves and they intimidate me. I think I'm going to make narrower sleeves like these dresses here: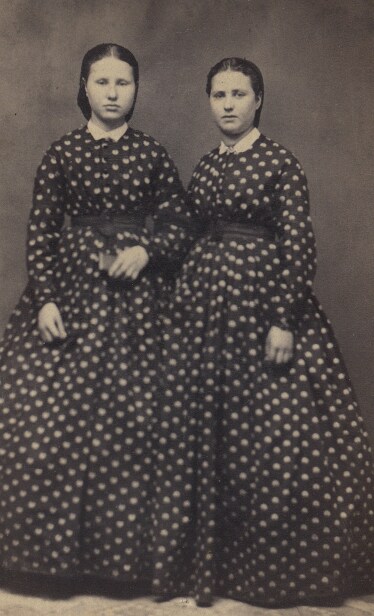 Both examples show buttons up the front. I haven't decided yet if I'll do buttons or stick to hook-and-eyes this time. But I do know I'll be putting a pretty bow at the front collar!
I'll have 3 sewing days next week to whip this out. I think I can do it. Here's a teaser on the fabric. I think I'll add a few details with a dusty rose colored ribbon, too, with a white cotton collar and maybe white cuffs, depending on what I'll have time for.